Glyoxylic Acid
Name of the Commodity: Glyoxylic Acid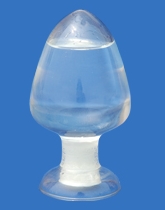 Appearance: Colorless or yellowish liquid
CAS NO.: 298-12-4
Molecular Weight: 74.04
Physical Properties:
Flashing Point: -93℃
Melting Point: -93℃   
Boiling Point: 224.6°C at 760 mmHg
Introduction:
Glyoxylic Acid is a kind of colorless or yellowish liquid, soluble in water, slightly soluble in ethanol and ether, insoluble in esters and aromatic solvents. Glyoxylic acid is very stable in the open air, but it it erosive.
Specification:

| | |
| --- | --- |
| Items | Specification |
| Assay %≥ | 40.0、50.0 |
| Oxalic acid %≤ | 1.50 |
| Nitric acid %≤ | 0.50 |
| Glyoxal  %≤ | 1.20 |
Application:
In perfume industry, Glyoxylic Acid is used as the raw material of methyl vanillin and ethyl vanillin. In pharm. industry, glyoxylic Acid is used to produce antihypertensive drugs such as atenolol and D(-)-4-Hydroxyphenylglycine, etc. Glyoxylic acid can also be used to produce allantoin.Glyoxylic acid is an organic compound. Together with acetic acid, glycolic acid, and oxalic acid, glyoxylic acid is one of the C2 carboxylic acids. Glyoxylic acid is a colourless solid that occurs naturally and is useful industrially.
Glyoxylic acid is used as a key intermediate in the pharma or agro industries. Clariant customers use glyoxylic acid in the manufacturing of synthetic vanillin and ethylvanillin, in the syntheses of widely used antibiotic, amoxycillin and as a starting material for the synthesis of iron chelates, a product group used as micronutrient in the agro industry. Generally, glyoxylic acid - because of its bi-functionality - is a versatile reagent in organic and fine chemicals syntheses.Clariant uses considerable amounts of its glyoxalic acid 50% production for downstream chemistry into building blocks for the agro-, pharma and fine chemical industries.
Packing: in 250kg plastic drums, 20MT/FCL
Storage: keep in shade, dry and ventilated place, avoid heat and air