Fumaric Acid
Name of the Commodity: Fumaric Acid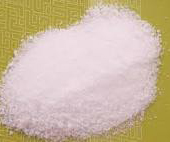 Appearance: white powder or crystal
CAS NO.: 110-17-8
HS Code: 2917190090
Molecular Weight: 116.07
Standard: FCCIV
Physical Properties:
Relative Density: 1.625
Melting Point: 295-300℃
Flash Point: 230℃
Introduction:
Fumaric acid is with a special and strong sour, almost 1.5 time stronger than citric acid. Fumaric acid is soluble in ethanol (5.76g/100g,30℃), slight soluble in water and diethyl ether and hardly soluble in chloroform.
Specification:
Solubility: (Unit g/100g)
Items

Standard

Assay(as C4H4O4)

99.5%~100.5%

Heavy Metals(as Pb)

10ppm Max

Water

0.5% Max

Residue on Ignition

0.1% Max

Chroma(5% ethanol)

15# Max

Maleic Acid

0.1% Max

As

3ppm Max

Solubility (Unit g/100g)

25℃ water

0.7

26℃ ethanol

5.76

27℃ dimethylbenzene

0.03
Application:
Fumaric acid can be used as acidity regulator, flavor enhancer and antioxidant additives. Fumaric acid is widely used in the production of carbonated beverages, liquors, enrichment solid drinks, ice creams and all the other kinds of drinks. Fumaric acid can replace malic acid and citric acid. Fumaric acid can also be used to produce unsaturated polyester resins.
Packing: in 25kg bags, 18MT/FCL with pallets, 20MT/FCL without pallets.
Storage: stored in cool and dry place.